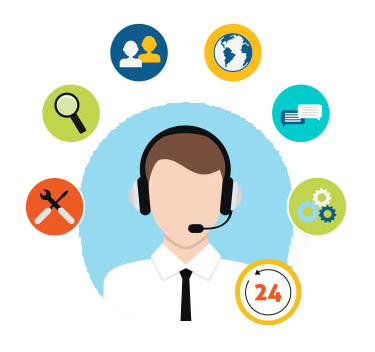 ISPL Support Services is a professional inbound call centre service provider for any Business / industries across India, Australia, UK, USA and Canada. When you outsource your inbound services to us, we help your Business by solving your customer's queries through calls with minimum hold on times. When we speak about business, inbound call centre services is the best dynamic and flexible solution to take care of the customers. Customer satisfaction provides the ultimate victory to the business thereby bringing enormous benefits to the company.

With our experts Inbound Call Centre team, we offer various Customer Support Services (answering service, technical support, order taking, IVR etc ), Compliant Booking Services (tickets booking, complaints registration etc), Sales Support Services (inbound sales, order taking etc) and Surveys (Customer Satisfaction Survey, CSI survey, Ecati surveys etc)
Our call centre executives at ISPL Support Services are experts in solving the customer's needs and queries with their powerful communication skills. With our dedicated professional inbound outsourcing services team, we process the standard issues raised by the customers and also have the capacity to control the customers contact activities thus resulting in an increased ROI (return on investment). In addition to this, our inbound outsourcing services gives you a layout about the customer's thoughts and opinions in which it makes the company to take the corresponding action to resolve it. Our integrated inbound call services brings an enormous number of customers for your company and provides the inbound call centre services very effectively and efficiently, thus shaping the customer relationship.
We, ISPL Support Services the leading inbound call centre service provider offer the inbound services listed here (on the right side) with our functional experts in order to meet the specific needs and requirements of the business client and this in return provides with an increased profit.